Worship at St Johns
All are welcome
We welcome all to any of our services. If you are new to the Church of England, you can click here to find out more about our style of worship.
Sunday Service
Our service will be a sung Eucharist starting at 10am. Please see the table below for details.

The service will be recorded and available shortly after the service.

Please click to listen on Soundcloud.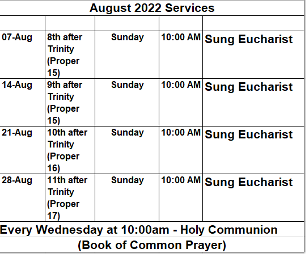 Wednesday Service
There is a service of Holy Communion at 10am every Wednesday. This follows the Book of Common Prayer.
Private prayer
The church will be open for unsupervised private prayer from Monday to Saturday 9:00am - 3:00pm. You are welcome to wear a mask but it is not mandatory to do so. Hand sanitiser and pew cleaner/sanitiser will also be available should you wish to use it.
Supporting our worship
Many people are involved each week in supporting the worship. If you would like to know more or, better still, get involved, click here.