St John the Baptist Parish Church
Giving to others - our Church Missions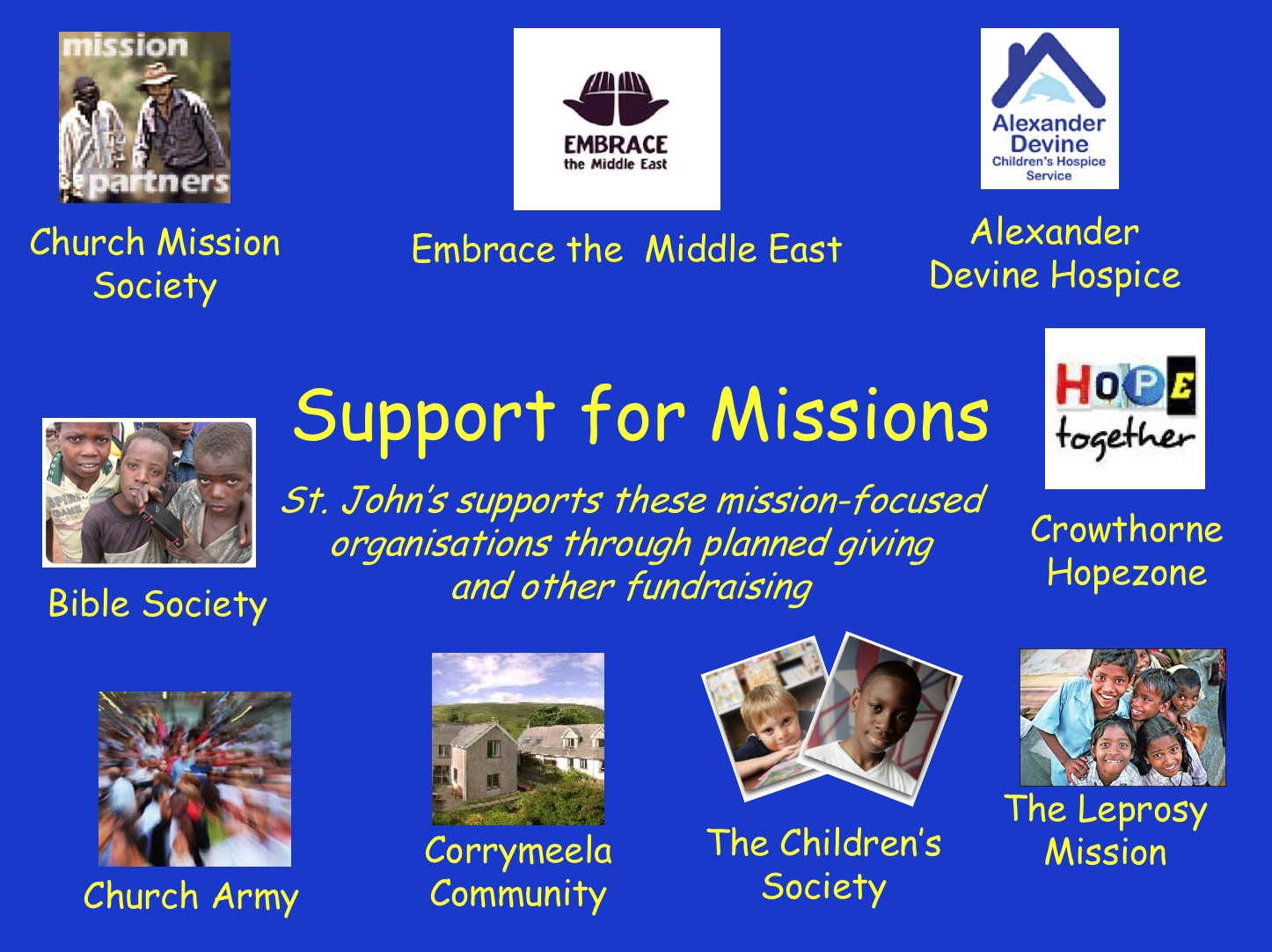 Lent Lunch in aid of Bracknell Night Shelter
We held our annual Lent Lunch on Sunday 4th March. In spite of the ice and snow we had experienced over the previous few days about 60 people gathered in the Church Hall. A simple lunch of soup, bread and cheese and fruit was served by the members of the Missions Committee who provide the food so that every penny donated goes to the chosen charity; this year the Pilgrim Hearts Bracknell Night Shelter.
We always ask for donations instead of selling tickets so that GiftAid can be added to the total collected. This year, perhaps partly because of the bad weather and sympathy for rough sleepers, an amazing £713.13 including GiftAid was collected. The committee would like to thank everyone who contributed.
Pilgrim Hearts in operation
Pilgrim Hearts Is a Christian organisation devoted to helping marginalised people, and those with disabilities, from all walks of life and from all backgrounds, races, and religions to reach their full potential and to explore their gifting and worth through the use of the creative arts.
The Night Shelter
The Bracknell Night Shelter is open from December through to March. The Night Shelter is open on the nights listed below at the venues listed below:-
Sunday nights at St Joseph's in Bracknell
Monday nights at the Holy Trinity in Bracknell
Tuesday nights at St Mark's in Binfield
Wednesday nights at the Easthampstead Baptist Church
Thursday nights at Newbold College in Binfield
Friday nights at St Michael's in Easthampstead
Saturday nights at the Methodist Church in Priestwood
They provide a secure, safe and welcoming warm shelter, a sleeping bag and food each night (from 7:30pm)and breakfast in the morning.
Passes are available from Bracknell Forest Borough Council, Citizens Advice Bureaux, The Kerith Community Church, NewHope and our Drop In (mentioned below)
Drop in Centre in Bracknell
The "Drop In" at St Andrew's Church in Priestwood is open every week from 11 am until 2 pm on Tuesdays and Thursdays. A friendly club atmosphere and our team are available for those who may wish to visit us to obtain a warm welcome, hot drinks, a hot meal and a listening ear. It is a place to relax among friends, play table tennis or just have a rest.
They can provide Food Bank vouchers, clothing, clothing vouchers, shoes and during the winter, entry passes for the Night Shelter.
Supported by the Bishops of Oxford and Reading, Bracknell Lions, Dive Club, Bracknell Town Council, many local Churches, the Berkshire Community Foundation, the Church Urban Fund, the John Lewis partnership Golden Jubilee Trust , The Gannett Foundation, Southern Water, Waitrose, Tesco's and the Warfield Park Community Association and from many other individual donors and companies.
The Leprosy Mission
The Leprosy Mission is one of the missions that we support here at St Johns. The money that they receive from us is vital to help those affected by Leprosy. The mission is very appreciative of our support.
Leprosy is one of the oldest diseases known to mankind and people with leprosy have been stigmatized and considered to be at the extreme margins of the society. The disease affects mainly the skin, peripheral nerves, upper respiratory tract and the eyes. It damages the nerves on the skin's surface leaving it without sensation or pain. As no pain is felt burns to fingers and ulcers caused by stepping on stones or glass go unnoticed and can lead to amputation, muscle paralysis and other disabilities. Blindness is also a common consequence caused by the inability to detect grit in the eye.
Leprosy rates would be significantly reduced in the world today were it not still shrouded in age-old stigma. Three million people would not be living with irreversible disabilities as a result of late treatment of the disease.
Changing those attitudes and increasing public awareness of the fact that leprosy can now be easily cured with multidrug therapy remains a challenge.
According to the latest World Health Organisation statistics, there were 214,783 new cases of leprosy diagnosed globally in 2016 – around one every two minutes. More than 60 per cent of these new diagnoses were in India. Due to the reluctance of leprosy patients to seek treatment because of the stigma surrounding the disease, those figures are regarded as understated.
In 2016, 1,127 people affected by leprosy or disability were provided with prosthetics and assistive devices at Chanchaga Orthopaedic Workshop in Nigeria. This is made possible through the work of the Leprosy Mission.
In 2016, 1,068 people in Mozambique were trained in self-care, improving their health and reducing the chance of disability.
The tragedy is when leprosy is 'hidden'. It damages and disables, slowly destroying each aspect of a person's life. If it wasn't for stigma and misunderstandings surrounding leprosy then people would seek treatment and all healthcare professionals would recognise its symptoms.
Here is an example of the devastating impact of the disease and the vital difference our support can make to the lives of those suffering from leprosy:
Hawa from Borameda in Ethiopia went to school and studied until Grade 8 but then dropped out because her hand began to claw and she was finding it difficult to write. Her friends, when they saw her clawed hand, stopped including her in their group. She was depressed and decided it was better to stay away. She spent a few years going from doctor to doctor to try to find out the cause of the patches on her skin and the stiffness in her hands and was finally diagnosed with leprosy when she was 16. She was given a year's course of treatment but although the bacteria are dead and she is not infectious, she is severely disabled by leprosy due to late diagnosis and treatment. The ALERT* hospital in Addis Ababa will however now be able to operate on her clawed hands and eye which will transform her life.
(*All Africa Leprosy, Tuberculosis and Rehabilitation Training Centre (ALERT) is Ethiopia's main leprosy hospital, and offers training courses to help medical personnel increase their leprosy expertise)
As well as providing healthcare, the Leprosy Mission offers rehabilitation, education, vocational training, small business loans, housing and fresh water supplies and sanitation to tens of thousands of people each year. They provide a springboard to restored health, self-sufficiency and renewed hope. Their services are provided regardless of religion or ethnicity, promoting equality and social justice.
We look forward to welcoming Jenny Foster from the Leprosy mission as our guest preacher on the 8th April at both the 8am and 10am services to update us on the work they are doing.
Thank you for your continued support. Jenny Foster will speak about the work of the Leprosy Mission on Sunday 8th April.
Wendy Alterton