St John the Baptist Parish Church
Christian Aid Week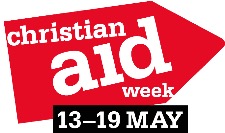 This year's House-to-House collection is from 13th -19th May and will also include 'shake-a-tin' street collections (which were very successful last year), provided we have enough willing collectors.
We try to cover as many addresses as possible in Crowthorne, and generally manage to collect around £4,000 in the week. We could do more with a few more volunteers (some previous collectors are no longer available) so we do need your help if we are going to reach the roads which so far are not covered.
Please do consider volunteering to help, even if you can only manage a small group of addresses, a single block of flats or an hour or so 'shaking a tin'.
It is self-evident that charitable aid for the desperately needy is needed more than ever in present circumstances.
Please contact Janet or Jim Sargeant if you can help in any way.
(01344-780074 or jandjsargeant@gmail.com)